Hello dear beginning artists and welcome to How to Draw for Kids and drawing lesson on how to draw the head of the viking for kids.
 Vikings are sailors and warriors of the Middle Ages from Scandinavia who conquered the half of Europe and Asia.
Step 1
So, first of all draw the circle as the general guide of the head.
Step 2
Now draw out two circles as guides for the eyes.
Step 3
Above the eyes draw out the frown eyebrows.
Step 4
Sketch out the helmet at the top of the head (in fact the Vikings did not wear such horned helmets).
Step 5
A very simple step where we draw out the nose and pupils inside the eyes.
Step 6
Now using the uneven line draw the broad beard of our viking.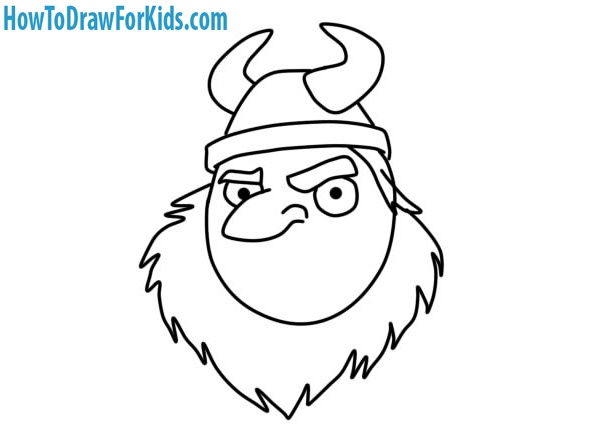 Step 7
Also very simple step where we draw the mustache.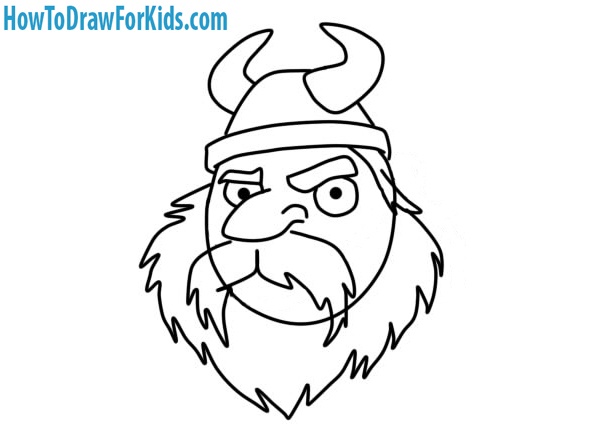 Step 8
Draw the ear, hair behind the ear and the lower lip below the mustache.
Step 9
Penultimate step of the lesson on how to draw a viking head where we erase all guidelines.
Step 10
It's time to paint out our viking using pencils, paints or markers.
Did you like this drawing lesson? If yes, then necessarily share it with your friends and subscribe to us on social networks and visit other our drawing tutorials.
(Visited 1,533 times, 1 visits today)