Hello dear young artists, today we present you a new drawing lesson on how to draw zombies for kids. This will be a very simple lesson, however, like all our drawing lessons on our site.
Step 1
First of all sketch out the head of our zombie, which is more like a potato.
Step 2
With one line draw zombie eyebrows and eyes in the form of semicircles right under the eyebrows.
Step 3
We draw the mouth in the form of an oval and teeth with using simple intersecting lines.  Draw the nose with two short lines and move to the next step.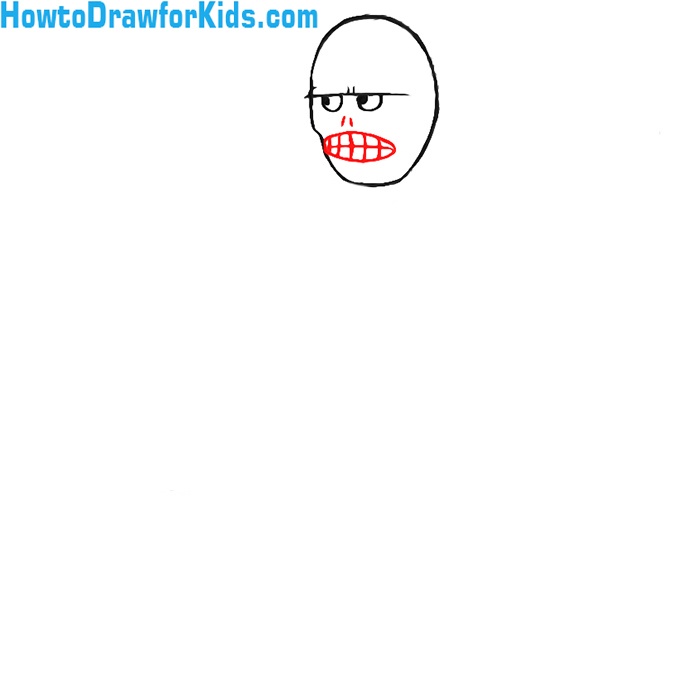 Step 4
Draw an ear in the form of a semicircle and a line of cheekbone using a curved line. Sketch out the rare hair using short lines.
Step 5
Draw the torso of our zombie in a shape of long drop.
Step 6
Draw out the arms of our zombie and twisted fingers.
Step 7
Using long straight lines draw the legs and feet as in our example.
Step 8
Add some details such as lines of ribs and pants.
Step 9
Erase all unnecessary lines making your drawing clean and completed.
Step 10
Paint the zombie in yellow-green color, pants in brown, eyes and teeth in light yellow (similar to light bulbs in lesson about robot).
As you already noticed, we very much like to draw different monsters and creatures from fantasy and fairy tales, such as mummies and vampires.
(Visited 546 times, 5 visits today)